RAK Ceramics Basins
Based in the UAE, Rak Ceramics has become one of the leading global brands for baths, toilets and - perhaps most notably - its basins since it was founded over thirty years ago. As well as its ceramic tiles and kitchenware, the basins made by RAK Ceramics are extremely high-quality, providing many years of reliable functionality as well as a sleek design aesthetic. read more
Showing 1 - 60 of 78 items
Rak Basins
Based in the UAE, Rak Ceramics has become one of the leading global brands for baths, toilets and - perhaps most notably - its basins since it was founded over thirty years ago. As well as its ceramic tiles and kitchenware, the basins made by RAK Ceramics are extremely high-quality, providing many years of reliable functionality as well as a sleek design aesthetic that will suit modern bathrooms and en-suites the world over. Rak Ceramics use a number of advanced manufacturing techniques that help to lower the carbon footprint of its products. A number of its products are also designed to use less water post-installation which is another plus point for the brand when it comes to environmental sustainability.
A good example of the sort of superbly crafted Rak Ceramics basins that are on offer is those found in its Origin range. This particular range offers a fully coordinated look over a number of different product types including its thermostatic shower column, its close-coupled toilet and its basin mixers. In addition, Origin hand basins come in three styles. This first is a recessed unit with a depth of 430 mm while the others consist of a stylish wall hung basin and a handy corner basin, ideally for smaller bathrooms and en-suites, of course. Bear in mind that the Rak Origin corner basin can be supplied with or without a pedestal as well as with a semi-pedestal, if preferred. All of the aforementioned bathroom basins are supplied with a 25-year manufacturer's warranty so you can purchase them in complete confidence.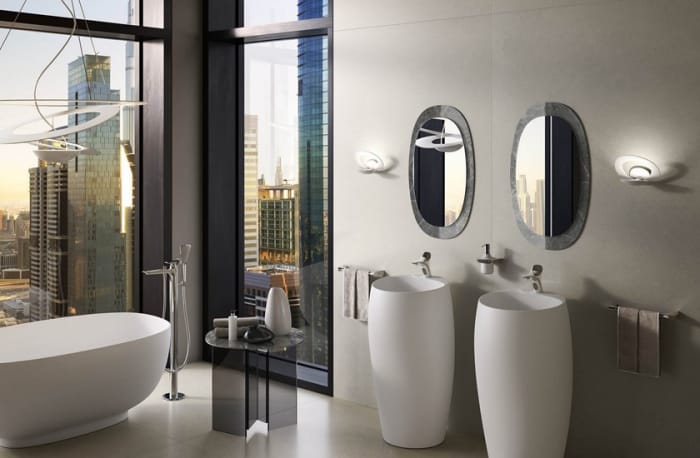 Along with other noteworthy Rak Ceramics basin ranges - such as the Morning and the Cloud, for example – the manufacturer's Resort basins are certainly worth a second glance. These stylish yet high performing washbasins have a tray-like appearance that makes them highly distinctive. Crafted from vitreous china, the basins in this range have a clear white ceramic look that is appealing to the eye. These basins will coordinate well within virtually any interior design look you may wish to achieve.
There again, the Series 600 basins, also designed and made by Rak Ceramics, provide something entirely different in terms of their look. The competitively priced inset vanity bowl from the Series 600 is a good case in point. This particular product has the same high-quality construction as the others already mentioned but it also offers an ultra-modern appearance. This luxuriant hand basin has dimensions that mean would be ideal in many settings, especially mid-sized bathrooms where something larger would be out of place and take up too much space. Like many other Rak Ceramics basins, this model can be purchased with a choice of one or two tap holes for complete flexibility.
Given that there are many other creative hand basin designs in production by Rak Ceramics today, it would be advisable to simply browse their ranges to get to know them better. Whether you are seeking a rounded look, such as Cloud basins have, or the semi-circular shape of their Moon basins, RAK Ceramics is likely to have a model to suit you.