Reina Bathroom Radiators
Whether you are updating your bathroom's décor, completely redesigning the layout of your en-suite or have decided to add your bathroom to your home's central heating for the first time, there will be a suitable Reina product. What makes Reina bathroom radiators such a cut above standard ones? read more
Showing 1 - 46 of 46 items
Reina Bathroom Radiators
Reina is a well-established brand in high-quality heated towel rails and bathroom radiators. With a diverse range of heating products that are specifically designed for bathrooms, en-suites, cloakrooms, shower rooms and wetrooms, there is bound to be something within their portfolio to suit your project. Whether you are updating your bathroom's décor, completely redesigning the layout of your en-suite or have decided to add your bathroom to your home's central heating for the first time, there will be a suitable Reina product. What makes Reina bathroom radiators such a cut above standard ones?
To begin with, you can obtain top-notch bathroom radiators from Reina's range in many different finishing options. Brushed stainless steel ones are popular as are their shiny and reflective chrome ones. There again, you can opt for a more traditional white or a mixture of white and chrome, if you prefer. Reina's bathroom radiators also come in black finishes as well as attractive anthracite and some that can be supplied in colours from the standard RAL colour sheet. This means being able to match your chosen bathroom radiator to exactly the same colour of your wall paint, for example, or to create a contrasting colour tone as you prefer.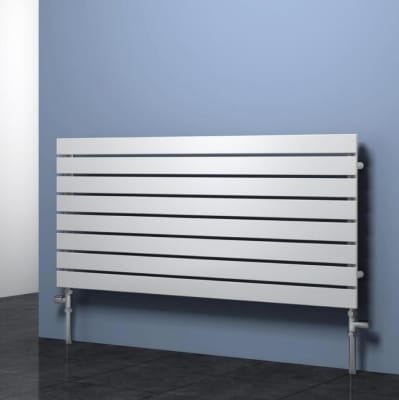 Reina Steel Bathroom Radiators
It is also worth exploring the design styles of the Reina bathroom radiators range. For example, the Reina Rione horizontal steel radiator would suit modern bathroom settings. This particular radiator can be supplied in white or your choice of RAL tone and is available as a single or a double-panelled version. Equally, the elegant Dimoro steel radiator would create a genuine impression wherever it was installed. This is largely down to its impressive double-curved design and powerful heat output. Measuring 1,760 mm in height, this particular Reina certainly makes a statement.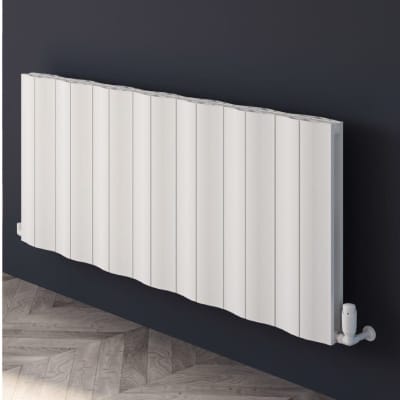 Reina Aluminium Bathroom Radiators
If you are looking for vertical radiators that can also be fitted horizontally, then the pair of Alco aluminium radiators will fit the bill. Ideal for large bathrooms where you might want more than one heat source or to create a coordinated look in several bathrooms and cloakroom around the home, the Alco comes in various widths whether you opt for the vertical or the horizontal version. You also get a choice of white or trendy anthracite! There again, the funky design of the Reina Reflect vertical steel radiator comes with an integrated mirror. As the name suggests, this reflective central panel is ideal for bathrooms where you will want to use it to get dressed, to apply makeup or simply to make the space look larger than it really is. Of course, it also keeps you warm!
The majority of Reina's bathroom radiators come with an impressive five-year guarantee which means being able to purchase from their range with complete confidence of a long-lasting product that will have been built to perform well for many years to come. Reina also produces a range of radiator accessories including thermostatic controls and even electric control mechanisms, some of which offer a seven-day control program so you are always on top of your energy consumption.