BC Designs Basin Taps
Priding itself on the quality and innovation that over 20 years in business has helped achieve, BC Designs' reputation for producing beautifully crafted products is as well-respected as ever. By combining classic aesthetics with contemporary technology, BC Designs is able to bring its range of luxury designer products to the bathroom market. read more
Showing 1 - 6 of 6 items
BC Designs Basin Taps
Priding itself on the quality and innovation that over 20 years in business has helped achieve, BC Designs' reputation for producing beautifully crafted products is as well-respected as ever. By combining classic aesthetics with contemporary technology, BC Designs is able to bring its range of luxury designer products to the bathroom market and offer consumers a touch of elegance by way of Victorian and Edwardian-era baths, basins and brassware. Its high-quality basin taps, in particular, exemplify the brand's commitment to authenticity and deliver attractive and efficient designs that help elevate any bathroom. Whether deck or wall-mounted, exceptional materials and bold finishes highlight just how versatile and all-embracing basin taps from BC Designs can be.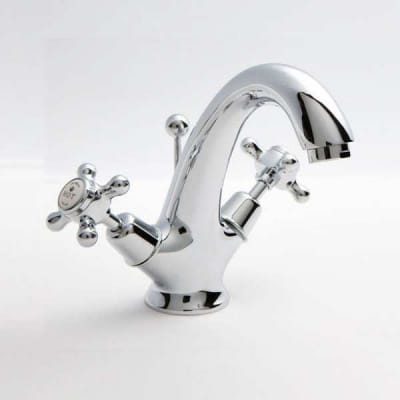 BC Designs Victrion Basin Taps
As the finishing touch to your basin, a tap or mixer is what brings it all together in both style and functionality. The beauty of BC Designs' basin taps is that they complement all models; minimalistic basins are easily accented with the sophistication of a Victrion tap, while at the same time a natural fit for traditional basins. Deck mounted basin mixers from BC Designs Victrion range, for example, offer a customisable solution that walks the line between vintage and modern. Available in six different finishes, consumers have the option to update the look of their basin with a brushed metal finish or aim for traditional accuracy with polished chrome.
Victrion pillar basin tap models, on the other hand, also inspired by the Victorian and Edwardian periods, offer not only the aesthetics of traditional taps but are more closely aligned with the way classic plumbing was originally installed. With two distinct components that control hot and cold water respectively, they provide an elegance that reproduces the look and feel of the past with modern efficiency. In this model and others, choose from crosshead knobs or levers to suit your taste.
As the middle ground between a mono basin mixer and pillars, BC Designs also offers 3-hole basin taps that bring the best of both worlds to your bathroom. As with all Victrion models, the 3-hole basin mixer is available in six different finishes, including Chrome, Gold and Nickel, as well as brushed metal versions of each, and is available with crossheads knobs or levers. For even more detail, choose between domed and exposed collars to personalize your basin tap completely and achieve the style both your basin and bathroom deserve.