Ideal Standard Toilet Seats
Similar to all of the other bathroom furnishings manufactured by Ideal Standard, their line of toilet seats have been designed with ergonomics and aesthetics in mind. Boasting a luxurious air of simplicity and utilising the latest technological innovations, choosing the right product has never been easier. read more
Showing 1 - 13 of 13 items
Ideal Standard Toilet Seats
Similar to all of the other bathroom furnishings manufactured by Ideal Standard, their line of toilet seats have been designed with ergonomics and aesthetics in mind. Boasting a luxurious air of simplicity and utilising the latest technological innovations, choosing the right product has never been easier. Let us examine some of the models which customers can choose from as well as a handful of unique attributes associated with each.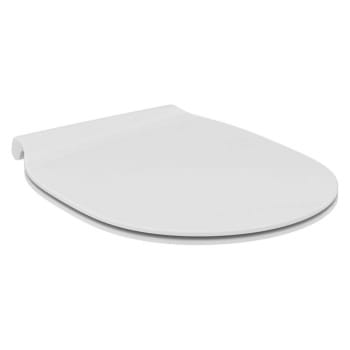 Ideal Standard Concept Toilet Seats
The Air and Space seats offered within this category are of particular interest, as their slim and sleek designs are ideal for use in conjunction with Ideal toilets. The Concept Air model offers a brilliant white finish and a sandwich-style configuration. The Space seat only minimally projects from the pan and users can choose soft-close hinges for reduced noise reduction alongside extra mechanical protection from damage over time.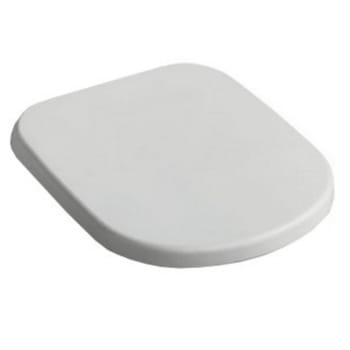 Ideal Standard Tempo Toilet Seats
Similar to the Tempo toilets offered by Ideal Standard, this range of toilet seats is primarily characterised by its rounded front and tapered flat top. Note that a short projection seat can be procured in the event that it is being used with a smaller pan. Once again, both standard and soft-close hinges are available.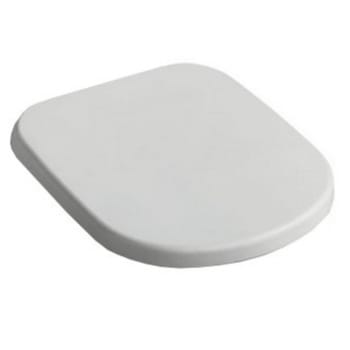 Ideal Standard Waverly Toilet Seats
The classical oval shape of the Ideal Standard Waverly is ideal for adding a classical touch within any bathroom. While brilliant white tones are available, customers can likewise opt for a mahogany effect if they wish to imbue a greater sense of warmth throughout the environment. While seemingly delicate in nature this seat has been engineered from durable plastic; offering years of use with few maintenance needs. Note that this seat can be used in conjunction with other items in the Waverly collection including close-coupled toilets and basins.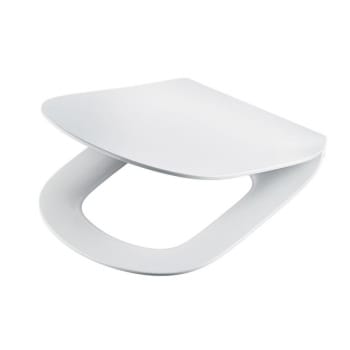 Ideal Standard Tesi Toilet Seats
Have you been looking for a slimmer design? If so, the Tesi could represent the "ideal" solution. This seat will offer an understated appeal and yet, it is just as hard-wearing as the other items offered by Ideal. You can select soft-close hinges when purchasing this seat and the Tesi can be used in synergy with other accessories. Examples include Tesi basins, Tesi bath fillers and Tesi mixers.
Not only are all of the standard toilet seats mentioned above extremely cost-effective options for your modern bathroom, but they have been engineered to last. This is why each is equipped with a full five-year warranty in the rare event that a problem occurs. If you are a fan of Ideal bathroom products or you simply wish to upgrade your toilet furnishings, these seats aim to please. Feel free to have a closer look or to contact us if you have additional questions