Ideal Standard Bathroom Accessories
Bathroom accessories are more than just attractive tools to add glamour and elegance. They also ensure the functionality of your bathroom, helping you relax and rejuvenate. If you're looking to add some sophistication to your intimate space, even a tiny piece could be the difference between a blank canvas and a truly luxurious bathroom. read more
Showing 1 - 30 of 30 items
Ideal Standard's Bathroom Accessories
Bathroom accessories are more than just attractive tools to add glamour and elegance. They also ensure the functionality of your bathroom, helping you relax and rejuvenate. If you're looking to add some sophistication to your intimate space, even a tiny piece could be the difference between a blank canvas and a truly luxurious bathroom. Create your retreat to enjoy some quality moments of solitude with bathroom accessories from Ideal Standard. Whether you're looking for an attractive, ceramic soap dish to keep your worktop clean or the perfect towel ring, Ideal Standard's fashionable bathroom accessories will give your bathroom a fabulous makeover.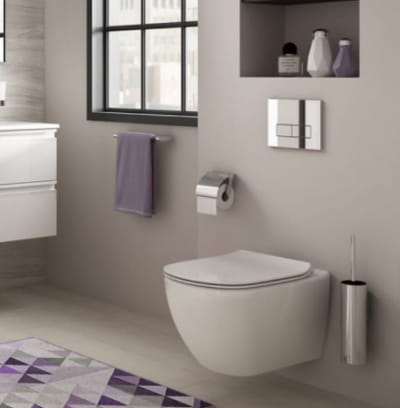 Ideal Standard IOM Range
When choosing bathroom accessories, it's crucial to consider your current bathroom décor and theme to centre them on the existing style. Ideal Standard strives to ensure that you have a choice when it comes to your bathroom luxury. Besides offering beautiful, practical and durable accessories, they make it easy to keep your bathroom accessories consistent throughout the room. For example, Ideal Standard's IOM range extends across many different types of luxury bathroom accessories in a range of finishes, including soap dishes, soap dispensers, grab rails, tumblers, toilet roll holders, and robe hooks. This way, if you need several accessories to accentuate your space, you don't have to struggle with keeping your style cohesive and coordinated.
Cleaning your toilet might be the least glamourous activity in the bathroom, but it's a necessary task nonetheless. This stylish toilet brush from the Ideal Standard Concept collection makes cleaning a breeze while adding undeniable style and elegance to your space. If you're looking for something a little more luxe, this toilet brush is a true gem. Straight from the lavish IOM collection, the toilet brush combines discrete design and practical functionality. It comes in two elegant options; stainless steel or frosted glass, each adding a luxurious edge to your space. Are you obsessed with finding the perfect bin for your bathroom? Keep your bathroom clean and stylish with this stunning pedestal waste bin from the impressive IOM range. Boasting a sleek chrome finish, the accessory offers functionality in modern, contemporary and minimalist décor schemes.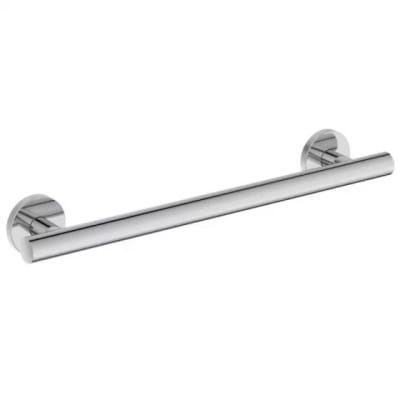 Ideal Standard Grab Rails
Making your bathroom fall-proof or slip-proof is crucial for maintaining a safe environment for you and your loved ones. Hand rails provide you with added stability while adding a luxurious edge to your bathroom. For example, this stunning grab rail from the stylish Concept Freedom range offers extra support for getting up and down from the toilet. Need a little more comfort when reading your favourite magazine? This elegant back support featuring a luxuriously soft cushion from the same stylish range makes your visits to the toilets enjoyable. Finished in a smooth white finish, this sleek accessory blends into any modern bathroom with ease. If you are looking for a way to use your tiny space effectively, you will find this grab rail from the stunning Concept collection god-sent. Doubling as a support and stylish home for your soap, this grab rail will make a fantastic addition to your bathroom.