Ideal Standard Basin Taps
When you step into your bathroom, the tapware might not be the most visible part of your interior design, but its functionality is undoubtedly significant. As well as being essential, tapware can also be very decorative. Stylish taps can bring your space to life and elevate it to a whole new level. read more
Showing 1 - 31 of 31 items
Ideal Standard Basin Taps
When you step into your bathroom, the tapware might not be the most visible part of your interior design, but its functionality is undoubtedly significant. As well as being essential, tapware can also be very decorative. Stylish basin taps can bring your space to life and elevate it to a whole new level. Whether you're looking for the best basin mixer or the perfect wall-mounted faucet, Ideal Standard prides itself in offering sophisticated, yet easy-to-use basin taps. With a wide variety of shapes, finishes, and designs, Ideal Standard's basin taps suit any taste and budget.
Your bathroom's existing design should guide you in choosing the best tapware for your bathroom. Are you looking to accentuate your contemporary space or to revamp your traditional-styled bathroom? Or perhaps, is it a balance between the two? Once you have established your style, you have a choice between two main styles-pillar taps and mixers. Pillar taps are ideal for classic style bathrooms, while the latter fit seamlessly in contemporary settings. Whichever style you choose, you have the option of mounting the tapware on a horizontal surface or directly onto a basin for a visually appealing look or wall-mount for a streamlined aesthetic statement.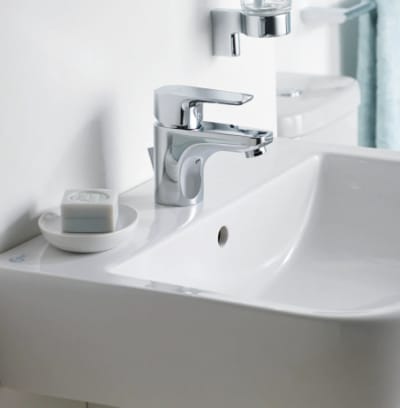 Ideal Standard Tempo Collection
This basin mixer from Ideal Standard's stylish Tempo collection will instantly transform your bathroom into an elegant, modern space with its distinctive curves. You will find red and blue markings to guide you on creating the perfect water temperature on its top. Thanks to its solid brass construction with a smooth, high-quality chrome finish, this tapware will stand the test of time. The basin mixer is easy to install and comes with a pop-up waste if needed. If you've had the unpleasant chance of getting scalded while washing your hands, the ultra-modern Tesi basin mixer prevents such awful experiences. Using its max temperature limiter, it eliminates the chances of scalding, providing a luxurious rejuvenating space.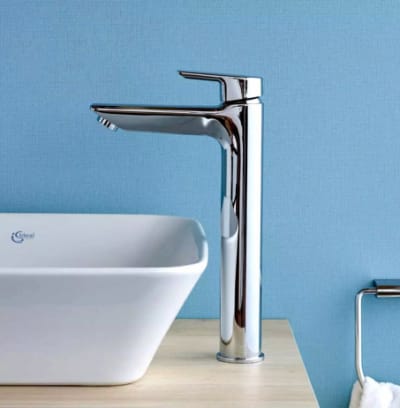 Ideal Standard Tall Basin Mixers
Countertop basins are a growing trend in modern bathrooms. Give your room a unique and stylish feel with this sleek lever basin mixer from the luxurious Concept Air collection. Available in different sizes, ranging from mini to tall, you're sure to find the perfect mixer for your modern bathroom. The range even offers a generous 5-year guarantee on their taps for total peace of mind. Extended height taps, also known as vessel mixers, greatly accentuate the look of your basin, creating a sophisticated designer look in your bathroom. Measuring 301mm high with a 186mm sprout projection, this Tesi vessel basin mixer transforms mundane handwashing into a luxurious experience.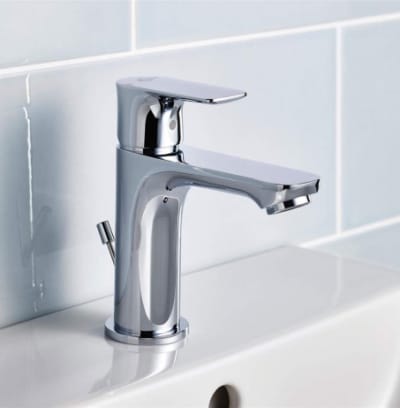 Ideal Standard Concept Air Collection
Saving water is automatic with Ideal Standard's taps. This eye-catching tall basin mixer from the stylish Concept Air range consumes less water than the average tap for a more economical experience. If you're looking for a premium basin mixer that will leave a lasting impression on your guests, this striking built-in basin mixer from the Tesi range makes a bold statement. With its quality craftsmanship along with modern design, this beautiful mixer guarantees cutting-edge aesthetic and impressive durability.