Grohe Bath Taps
Showing 1 - 11 of 11 items
Grohe Bath Taps
For your stylish bathroom, you'd want everything to be smooth and luxurious. And in any modern bathroom, choosing the right tap is crucial. An ideal bath tap does its job well and enhances the look of your space. Whether you're looking for an elegant freestanding faucet or an artistic wall-mounted set, you will find an eclectic range of bath taps at Grohe. Stuck on where to begin? Below are some of their offerings to get you started.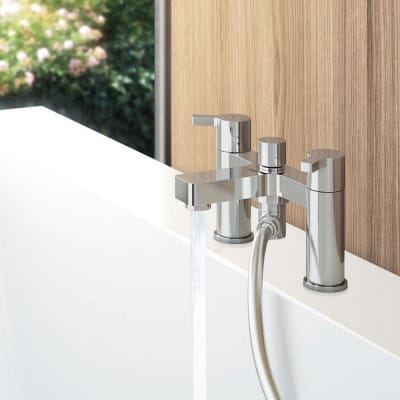 Grohe Deck-Mounted Bath Taps
Stylish and easy to use, deck-mounted taps are the most common bath mixer style in most homes. Designed to fit the bath deck perfectly, they come in various luxurious types, including monobloc, two tap hole, pillar and waterfall mixer taps. Whichever variation you choose, Grohe bath taps guarantee robust performance in style. If you fancy elegant curves, this stunning Bath Filler Tap from Grohe features an eye-catching forward-sweeping look. Thanks to the SilkMove ceramic cartridge, you can look forward to smoother turns and adjustments for the perfect flow and temperature. In addition to this package, you also get a generous 5-year guarantee for total peace of mind.
Are you looking for the best bath tap for your luxurious bathroom? This undeniably stylish 4-Hole Bath Mixer Tap Set makes a classic addition to any bath setup. Like the previous model, the collection features the smooth turn SilkMove ceramic cartridge ensuring ease of use and drip protection for years. Plus, the set additionally comes layered in StarLight chrome for hassle-free cleaning and a finish that lasts.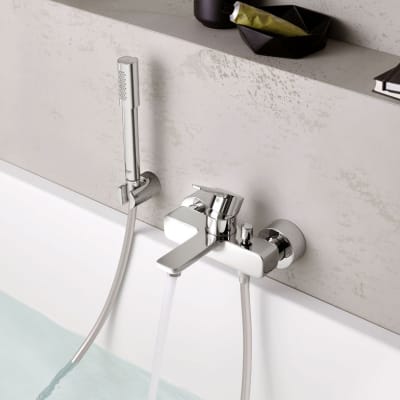 Grohe Wall-Mounted Bath Taps
In addition to being great space savers, wall mounted taps make for a luxurious feel for your space. If you've been looking for the perfect luxury bath tap, look no further than Grohe's luxurious Eurostyle Exposed Single Lever Shower Mixer Valve. The collection comes in four distinct models with options for finish and bath spout, allowing you to tie this beauty with your existing style effortlessly. Boating quality brass construction with a generous 5-year guarantee, you can look forward to enjoying your showers for years to come.
Working with a minimalist bathroom? This luxurious Exposed Thermostatic Bath Shower Valve from Grohe will make a bold statement in your modern space. The stylish model features thermostat technology that prevents scalding, ensuring a safe showering environment for you and your loved ones. You will also be pleased to discover the tap hosts a 1/2" shower outlet for pairing with your favourite shower appliance.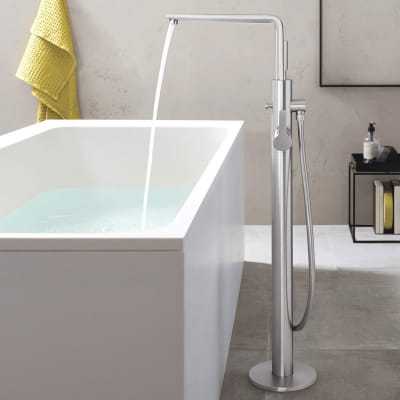 Grohe Freestanding Bath Taps
A freestanding bath tap offers a unique way to add a striking focal point to your high-end bathroom. Elevate your space with Grohe's Essence Bath Mixer Tap with Shower Kit. The set includes an integrated shower kit with a 1.25m flexi-hose suitable for children or pets. Featuring solid brass construction completed with a layer of durable StarLight chrome finishing, this tap guarantees performance and elegance in your bathroom. Grohe prides itself in offering only the best high-quality taps, which is why this tap also comes with a 5-year guarantee for 100% peace of mind.