Bayswater Heating
At the end of a busy day, you want to relax and rewind in a warm and cosy bathroom. Cold floors and damp towels have no place in a modern bathroom, which is why investing in the best radiator for your bathroom is essential. read more
Showing 1 - 8 of 8 items
Bayswater Bathroom Heating
At the end of a busy day, you want to relax and rewind in a warm and cosy bathroom. Cold floors and damp towels have no place in a modern bathroom, which is why investing in the best radiator for your bathroom is essential. Furthermore, the warmth added by radiators and heated towel rails adds to the overall comfort and indulgence of your space, especially when temperatures aren't so forgiving. At Bayswater, there is a luxurious collection of stylish radiators for warming your bathroom and towel rails for drying and displaying your towels.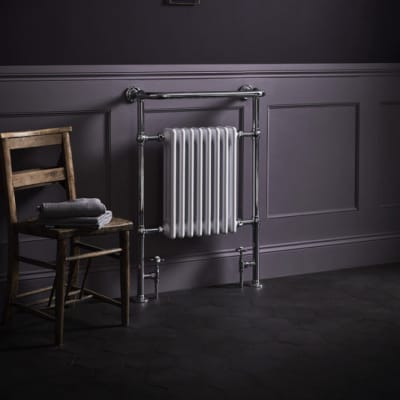 Bayswater Radiators
In addition to providing warmth and comfort, a radiator makes a sleek addition to your bathroom. This stunning horizontal column radiator from Bayswater's Nelson range will elevate the look and feel of your space, especially if you find your bathroom chilly. Beautifully classic and stylish, the radiator offers the perfect blend of elegance and practicality in any modern bathroom. With six widths and two finishes to choose from, you should have no problem fitting this radiator regardless of your bathroom size or existing style. If you're in search of the best radiator valve, this angled Thermo valve will exceed your expectations. As it's available in three stunning finishes; chrome, satin nickel and antique brass, it will be so easy to match it with your existing design.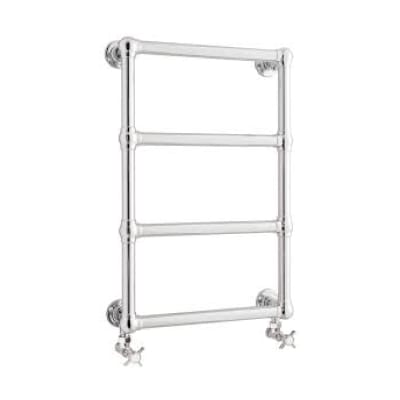 Bayswater Heated Towel Radiators
If space is on the premium, you should consider getting a bathroom radiator that provides some hanging storage for your towels. Featuring a sleek chrome rail on the outside and a radiator at the centre, this stylish towel rail and radiator will warm both your towels and bathroom. Chic and luxurious, this stunning towel rail and radiator from the Wesley range is another towel rail and radiator bound to complement any bathroom with its fascinating qualities. Made from high-quality steel and with a two-decade-long guarantee, you will be sure to enjoy this timeless fixture for years to come.
On the other hand, if your bathroom requires lots of towel space, investing in a stylish heated towel rail might be the best option. Keep your bathroom warm in style with this luxury towel rail featuring quality steel construction complete with a sharp chrome finish. Depending on your existing pipework or décor, you have the option of either having the towel rail floor or wall-mounted. Bayswater even offers a 20-year guarantee with this towel rail to show their dedication to quality.