Clearwater
Just over a decade ago, Clearwater debuted their luxurious and expertly-crafted range of freestanding baths and basins to great acclaim thanks to their high quality and stunning designs. Today, those same characteristics make the brand a favourite among designers and homeowners looking to achieve a timeless bathroom scheme. read more
No products found
Sorry, there are currently no Clearwater products available. Please try an alternative brand or try searching for a product.
Shop by brand

Clearwater
Just over a decade ago, Clearwater debuted their luxurious and expertly-crafted range of freestanding baths and basins to great acclaim thanks to their high quality and stunning designs. Today, those same characteristics make the brand a favourite among designers and homeowners looking to achieve a timeless bathroom scheme. Their secret to success lies in the combination of elegance and function, blended perfectly to create statement pieces that not only look beautiful but also offer accessibility and space-saving practicality. With baths, basins and taps that lend themselves to both traditional and modern bathrooms, Clearwater products tiptoe the line between style and substance to offer the best of both worlds.
One of the hallmarks of Clearwater pieces that make them so exceptional is the use of first-rate materials. Strong and sophisticated, a natural stone bath from Clearwater is durable and solid but offers a soft, satin-touch in a modern bathroom. Likewise, ClearStone baths made from sedimentary stone composite and Gibbsite mineral filler help create the look and feel of a traditional tub while offering superior strength and finish: scratch-resistant, hardwearing and able to keep the water warm for longer, it's the perfect material for everyday use. Whatever your taste or needs, Clearwater products can meet the demands of your lifestyle.
Clearwater Baths
If you're lucky enough to work with a generous amount of floor space when creating your dream bathroom, a large freestanding bath is the ultimate indulgence and can be the centrepiece that brings all other style elements together. Clearwater baths are perfectly designed for such rooms and displaying them in the right environment can help showcase what makes them so special. But even in smaller bathrooms, Clearwater has made it possible to experience the same luxury even when floor space is scarce with smaller models that don't sacrifice style or function.
The Clearwater Formoso line is the perfect example of the brand's versatility and their ability to understand that sometimes, one size does not fit all. The Formoso Grande is a modern freestanding bath that is spacious and deep with a symmetrical design simple and streamlined enough to complement almost any decor or aesthetic. Made with the finest materials, it's durable and not easily worn. If your bathroom can't support the size of the Grande, however, the Formoso Petite offers an alternative. With smaller dimensions and a lighter weight, the Petite model not only fits better in tight spaces but it's also easier to get inside and install. The differences end there, however, and the Petite, like the Grande, boasts the same ClearStone composite material and striking design that make the Formoso line of baths exceptionally well-built and stylish, perfect for daily use.
These characteristics aren't limited to one model but instead, run throughout Clearwater's range of baths, including the Patinato, this time in the form of a back-to-wall freestanding design. Like the Formoso, the Patinato is a modernly-designed bath that offers plenty of space and is made to withstand consistent use. The difference here is that the Patinato can be positioned against a wall to save space with the help of its deck-mounted taps. It's availability in two different sizes, Grande and Petite, make it just a versatile as the Formoso, if not more, and allow even smaller bathrooms to experience the difference a Clearwater bath can make.
Clearwater's penchant for timeless design means that most of their baths and basins can work interchangeably in many different settings. But for those looking for a particularly classic look, they'll find that Clearwater also offers traditional baths that recall a time when small, intricate details and ornate flourishes were the marks of craftsmanship and quality. Unlike the ultra-modern baths of today, models like the Clearwater Classico and Romano feature roll-top tubs with claw feet displaying the refined and elegant aesthetics that can still make a splash when introduced into the right space. In addition to standard symmetrical designs, you'll find high-back or double-ended baths that feature smooth curves for a slightly more contemporary look.
But while the designs may rely on the tried and true templates of the past, Clearwater's innovative spirit helps bring them into the 21st century in all the most important ways. Like the modern varieties, Clearwater traditional baths include durable materials like natural stone and ClearStone that put them head and shoulders above typical ceramic tubs. They're also similarly available in Grande and Petite sizes to suit both large and small bathrooms. When paired with the right freestanding tap or mixer, they offer the complete package in terms of style and build quality, perfect for the most sophisticated of tastes.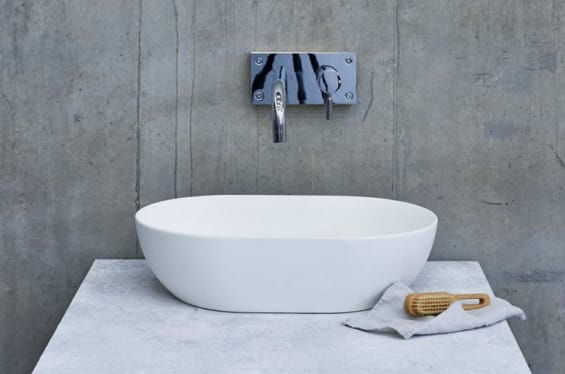 Clearwater Basins
When browsing Clearwater's range of basins, you'll quickly see they never miss a beat when it comes to creating a complete solution for your bathroom essentials. Perfectly designed to complement and enhance all styles of baths, Clearwater basins continue the trend of quality materials manufactured to the highest standard in both cutting edge and traditional models.
Modern Clearwater basins are available in a variety of different shapes, each with their own unique qualities that best suit particular bathroom styles, sizes and designs. Heavy-duty natural stone basins like the Vincenza and Sontuoso offer large, deep bowls that are perfect for spacious countertops. They also come in a hand-polished white finish that speaks to the level of attention each Clearwater component receives. Smaller basins, while just as expertly crafted, are perfect when taking space-saving measures. They can also be matched with their bathtub counterparts to create a cohesive feel. When this is done, you'll find the same durable materials in both products and a high-gloss white finish that looks sharp and is easy to keep clean. Some styles, like the Teardrop basin, offer uncommon shapes that can also help add personality to a bathroom while still maintaining the level of quality seen throughout the brand.
Clearwater's traditional offerings, just like their baths, feature time-honoured designs that still provide the functionality of modern plumbing advancements. Available in classic square and rectangle shapes, these roll-top basins come in three separate sizes that cater to most bathroom dimensions. The optional stainless steel stand also adds to the charm of the traditional look and can also offer additional storage space. Together with a freestanding clawfoot tub, it can help to create the ideal traditional bathroom.
Like with all of their designs and styles, Clearwater basins are a testament to the brand's desire to blend multiple elements for the perfect bathroom. Whether it's in the designing of baths, basins or their accessories, Clearwater ensures they meet the highest level of design and durability so you can feel confident installing their products in your home.