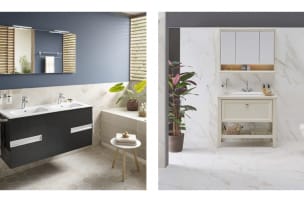 As you may already be aware, we stock an incredible array of vanity units at Bathroom Planet with something to suit just about any interior design style you can imagine. That's a good thing to know whether you are interested in the latest and most on-trend bathroom ware products or want something that is different from the norm and more distinctive.
Interestingly, we have been collecting data about the buying habits of our clientele over the last few years to work out what has been changing in the marketplace. Some of the results of our data capturing exercise have been quite revealing. Read on to find out more about the several discernible trends that are ongoing in the vanity unit market today. We think you'll find them as fascinating as we do.
UK Vanity Unit Sales – An Overview
In the period we surveyed, a total of 1,679 vanity units were sold. That's quite a remarkable figure on its own given that not every bathroom has a vanity unit at all. Yes, some of these would have been accounted for by en-suites and downstairs cloakrooms, but it is fair to assume that the vast majority have now been installed in bathrooms giving their owners the chance to combine storage space and a hand basin in one single piece of bathroom furniture.
The second headline statistic that sticks out is that the total revenue from vanity unit sales reached over £748,000. This means that the average price paid for a vanity unit at Bathroom Planet was £445.60. This figure indicates just how much members of the British public now tend to value vanity units in their bathrooms and en-suites.
A few years ago, fewer units of this type were being sold. It turns out that many people now think a vanity unit is indispensable when renovating their old bathroom suite. Given that the lowest price we sold a vanity unit for in the period we're looking at was just £113, people obviously wanted to buy vanity units that would make an impact and offer a design statement. The highest price paid for vanity units from us in that time was £1,416, so this constitutes quite a range in pricing, as well.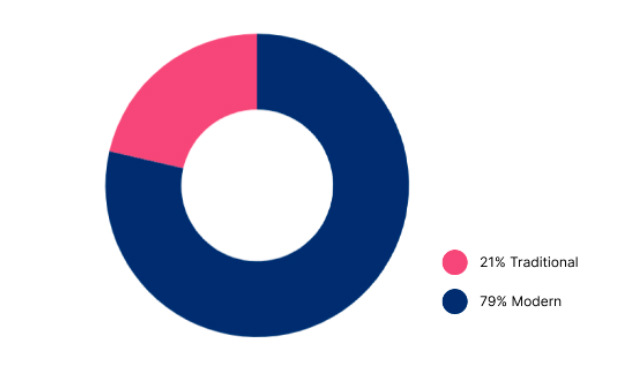 Modern and Traditional Vanity Units Compared
What is perhaps even more telling from the perspective of the UK consumer was, since 2019, we have sold many, many more modern styles of vanity units than traditional ones.
Obviously, there is a market – and a significant one – for traditional bathroom styles but when it came to vanity units, the clear winner was modern design aesthetics. In fact, we sold almost four-fifths of our vanity units in modern styles compared to just 21 per cent among traditional products.
To break that down a bit further, the average price paid in the surveyed period for a modern vanity unit was approximately £402. The equivalent average figure for a traditional vanity unit was higher at £693. However, it doesn't appear to be the case that people chose modern styles because they were, on average, cheaper. Instead, it seems that when a traditional unit was called for to conform with the rest of the bathroom style, people were willing to pay that bit more to get the look they wanted. Therefore, if you look at the revenue derived from traditional styles of vanity units, they account for almost a third of the total even though they constituted only about a fifth of the total number of units sold.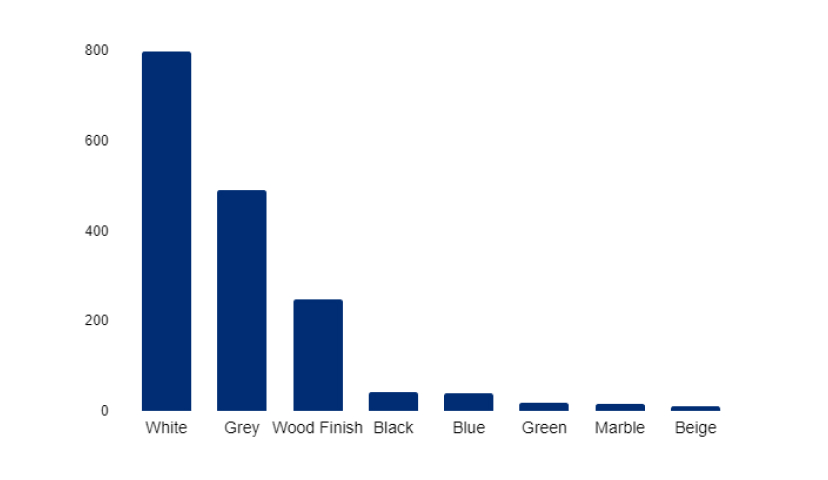 What Finish of Vanity Unit Was Most Popular?
It may not come as much of a surprise to learn that since we began our survey, the top two colours for vanity units were white and grey. Together, these two colours accounted for almost two-thirds of our sales, something that we'd confidently predict is likely to continue for some time to come. Black and blue were the next two most common colours, followed by marble, green and beige. However, more noteworthy was the popularity of wood finishes among vanity unit purchases. These accounted for over 15 per cent of all the vanity units we sold in the period.

When we drilled down into the sales statistics for wood finishes a little, we discovered that UK consumers thought that oak was the material they were most interested in. When it came to vanity unit sales with wooden finishes, oak accounted for getting on for half of the products sold. Of course, oak covers many different tones but the fact remains that British consumers like this type of wood, associating it with solidity and quality. After oak came wenge, also sometimes called faux ebony. With a rich yet dark brown look, wenge can even appear to be black in some lights. In total, 14.6 per cent of the wooden vanity unit finishes we sold were wenge-based. The richly coloured caramel wood came next followed by walnut, teak and cedar.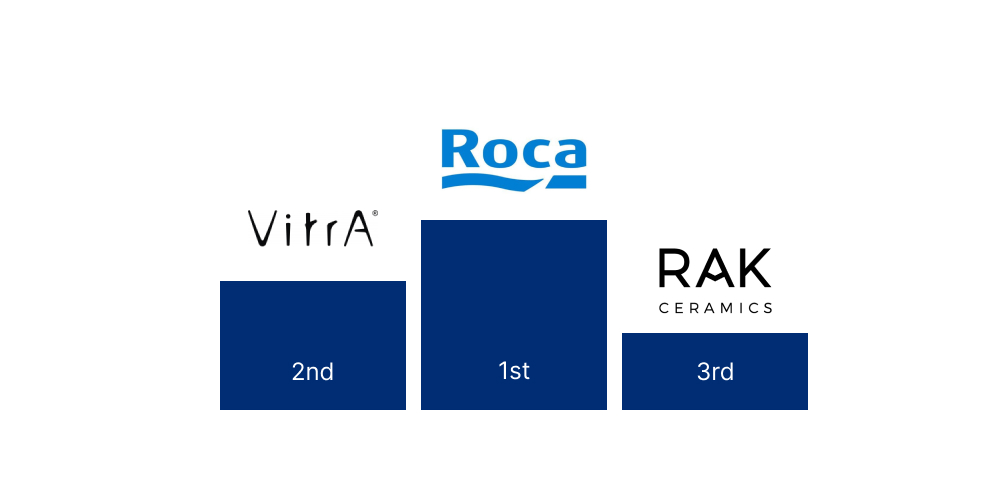 Comparing Vanity Unit Brands
When it came to bathroom ware brands, the picture was a little more complex. To be clear, the top-selling brand at Bathroom Planet in the period we are looking at was Roca, the Spanish design house and sanitary ware manufacturer. We sold in excess of 600 Roca vanity units, the clear winner when it comes down to total sales. The next most popular brand by units sold was VitrA. Being a Turkish company, it looks as though the popularity of elegant design styles in bathroom ware – certainly among vanity unit purchases – was undimmed.
However, the third-placed brand, in terms of unit sales of vanity units, was RAK which is based in the United Arab Emirates. We sold well over 200 vanity units made by RAK. Of course, in the same time period, we sold almost three times as many Roca vanity units. However, what is noteworthy about these sales is that around half of the top-selling individual products we sold were made by RAK. As such, RAK Ceramics' most popular designs were bought again and again by UK consumers whereas other manufacturers' designs tended to sell across their entire ranges.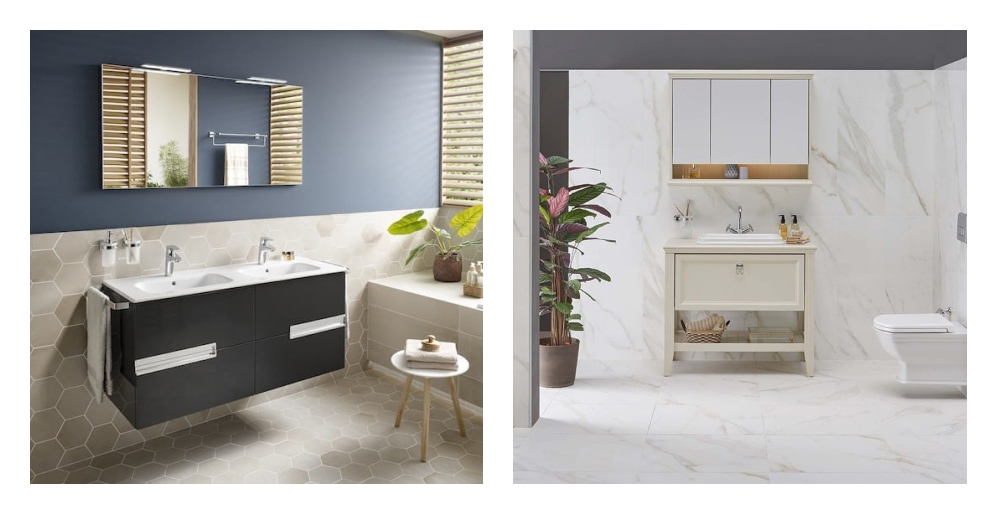 Which Were the Most Popular Vanity Units of All?
Roca's Victoria-N Wall Hung Vanity Unit & Basin was the top seller at Bathroom Planet over the last few years. This simply designed yet the elegant unit is very, very versatile which perhaps accounts for why it was chosen so many times by our valued UK customers. Available in five different widths and two different height options, it can fit into larger bathrooms and smaller en-suites and still look like it is the right size for the room. With a choice of two or three drawers per unit, it also offers plenty of versatility as a storage unit, as well. Optional extras, like a mirror with integrated lighting, also tended to make this product one of our top sellers of any product classification.
If you want to know what the top-selling traditional style of vanity unit was, then this was the VitrA Valarte Washbasin Unit with chrome handles and a white matt finish. An elegantly proportioned vanity unit, this product was priced slightly under the average asking price for a traditional unit. Perhaps the vanity unit's thermoform coating and two-year manufacturer's guarantee accounted for its popularity. After all, it only comes in one size. That said, it is also produced in matt ivory and matt grey and has a choice of gold or chrome handles. As such, it probably offers just as much design flexibility as the Victoria-N.