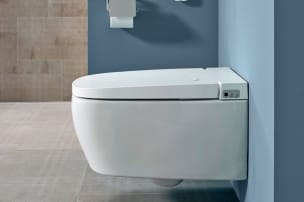 From the smart shower to the smart toilet, bathroom products have been slowly integrating with technology over the past few years. Today we see remote control showers and self-cleaning toilets becoming the norm. Bathroomplanet.com has put together our list of the top bathroom innovations for 2018.
Bathroomplanet.com have put together a list four top 5-bathroom innovations for 2018 to give you new ideas about how technology can improve your bathroom experience.
1. Vitra V Care
The Vitra V-Care toilet aims to revolutionise hygiene and comfort standards for the bathroom. The Vitra V-Care is a toilet that is controlled remotely and allows you to open or close the seat, adjust the spray, water temperature or drying options all at the touch of a button. The toilets offer contemporary design with washing, drying and air purification options.
2. Laufen Riva
The Cleanet Riva shower toilet offers a high-quality ceramic design and comes with technically sophisticated, user-friendly solutions. The main feature of this premium toilet is its wide range of intuitive shower functions. The user can choose basic or detailed settings on the touch screen remote control or choose everyday use by pushing or twisting the rotary button on the side. The Cleanet Riva is the only shower toilet to feature a multi-stage hygiene concept in which the whole water circulation system is also thermally cleaned at regular intervals.
3. Aqualisa Q Smart
The Aqualisa Q offers their best showering experience to date. Crafted with high quality materials and driven by precision engineering the Q™ was designed with style in mind. The main focus of the Q™ lies My Q™, which offers the unique ability to choose from a range of settings that have been created for you such as 'Eco', 'Sport' and 'Family'. My Q™ gives you the option to sculpt your own showering experiences with your choice of temperature, outlet, flow and duration.
4. Hansgrohe Select
Hansgrohe Select allows you to select your shower experience at the touch of a button. The select button aims to give customers the opportunity to create their own dream shower. Whether you want to switch between your overhead and hand shower, or between jet types. Or whether you want to turn the water from your mixer on or off with precision.
5. Bathroom Brands Digital
Sophisticated controls and elegant designs are the hallmark of Bathroom Brands Digital. Choose from the Classic 1910 or the more contemporary 2025 model and create a versatile and unique bathroom that offers precise temperature control technology and high-quality design. The products are safe and easy to install and maintain.
For a full list of our products visits Bathroomplanet.com or contact us for advice or information about the products listed in this article.