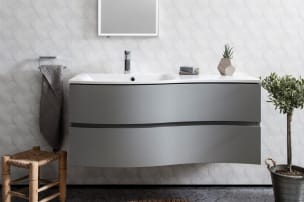 Why you need a vanity unit
Your bathroom sees a lot of usage. Whether it accommodates a single person or a family of five. The bathroom has a lot of things to store in it. Cosmetics, cleaning products and toiletries all add up to take up valuable storage before spilling over to ledges, windowsills and on your basin. If left unchecked, all this build up can quickly turn into a big clutter!
What a vanity unit does is give your bathroom a central space where you can locate all your absolute essentials. Somewhere where you can carry out all your bathroom rituals and not have to worry about hunting for the cotton buds you swore you left on the shelf. It's a space that streamlines your whole bathroom routine into one stylish place.
So, If you're in the process of re-styling your bathroom space. One of the first things you should consider is what kind of unit your bathroom needs. But more importantly YOU could use. Read on to find out some of the things to consider when shopping at Bathroom Planet.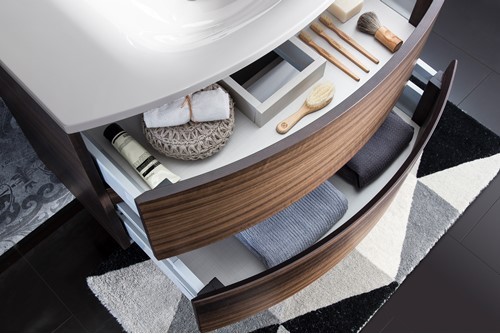 Picking your perfect size
What size of vanity unit you opt for depends on a number of factors. The first is probably the most limiting of all. How big is your bathroom? It's important to scale your unit based on this question. As purchasing too big could really throttle your bathroom's sizing. While going too small can leave your unit feeling lost in the space and throw off the balance of your room.
Your second consideration should be how much storage do you need? This can boil down to the amount of people that use the bathroom and how much products they use on a daily basis. With answers on this you can start to consider your storage needs. A single person may only need a smaller unit with a single deep drawer for their own bathroom belongings. While a full family of people may need a larger unit with two drawers to not only fit all their individual products. But also keep them separated for less whose is whose arguments.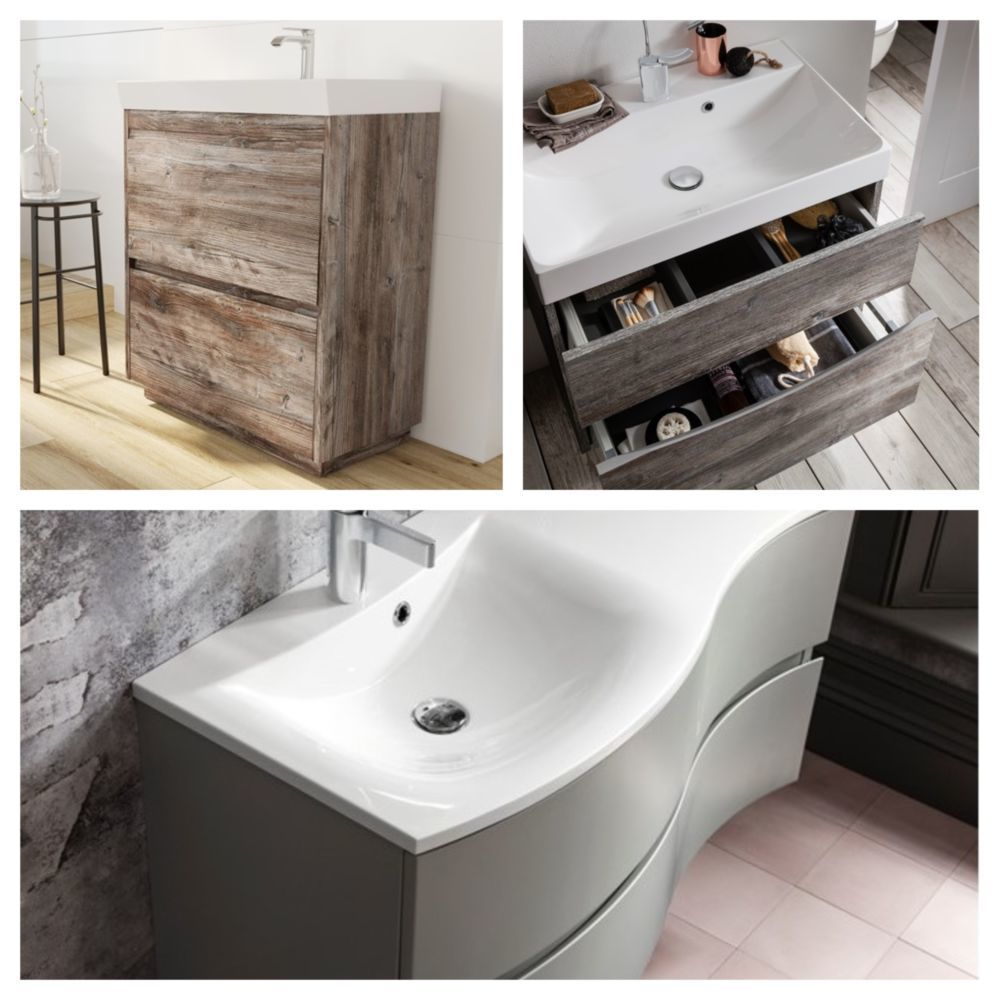 Choosing your style & finish
Modern vanity units come in a plethora of different shapes and finishes. So much so that it can be overwhelming when you're presented with such a large choice. But it can be broken down to a few simple choices. The first is the silhouette of your unit. Maybe a simple square unit with sharp corners can tighten up the look of your bathroom. Or a smoother shapelier unit might tie in better with a bathroom's chic styling. There are no hard and fast rules so look around and experiment with works best for you.
Another choice that can influence your unit's look is how it is fitted. Furniture units like this can come in floor standing or wall-mounted models. The former is a more traditional method and can appear more conventional. The latter provides a modern feel that also makes the wall it is fitted on feel more open. Now, this is a feature that can be dictated by your bathroom layout and even the structure of your wall. But if you have the facility for both, is worth taking into consideration.
The last and maybe most influential element when thinking about style is finish and colour. Changing the colour of your unit's skin can turn it on its head in terms of style. The days of standard white gloss being your only choice is gone – though it's still a very appealing option. A very popular trend right now is grey bathroom furniture. Modern and undeniably cool. Shades of grey can be as universal as white but with a subtle edge. Something that's becoming ever more popular are raw wood finishes. With touch friendly surfaces. These finishes give a lovely organic feel that also appears more premium.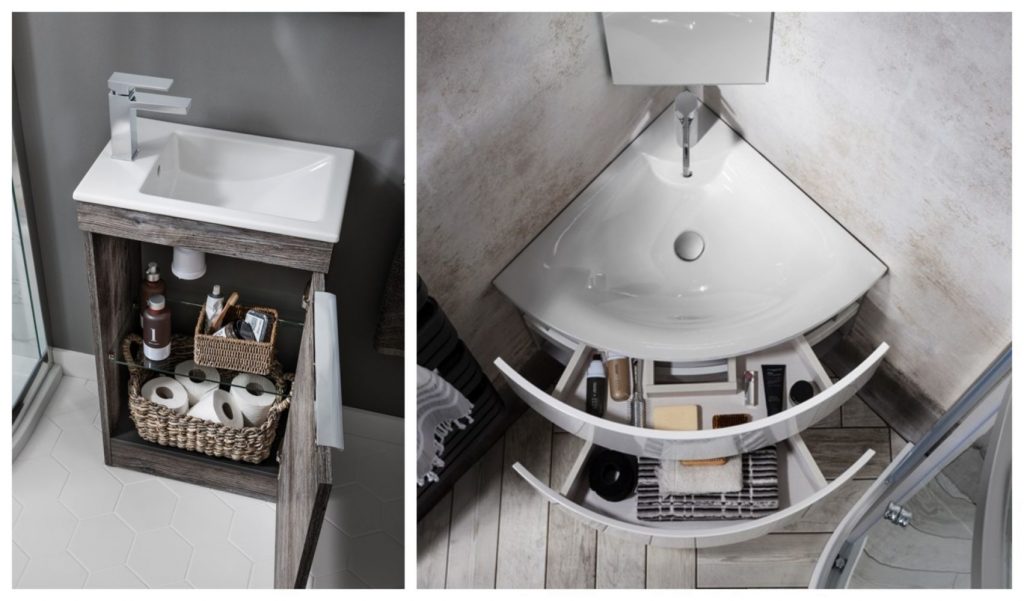 Smaller spaces & smart storage
What if you have a particularly small bathroom or a washroom that needs a little something in terms of storage? Well just because the space is smaller it doesn't mean you have to compromise on style or practicality. Your first option are dedicated cloakroom vanity units. These pieces tend to have much slimmer profiles to fit in narrower spaces where a bulky unit could hamper movement. Because of their thinner shapes the included basin's tap hole is usually moved to one side. Despite this decrease in size you keep a workable storage area for holding any necessities.
Another option would be to go for a corner unit. These units usually come in more standard size. But by corner fitting the unit you make the most of a smaller area's available space. You can even have the option of two drawers – that thanks to their shape – can host a more than admirable volume of your bathroom goodies.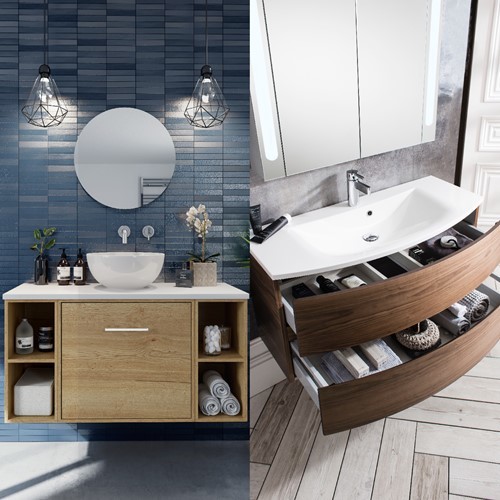 Finish off your vanity unit
Now that you've nailed down exactly what you want from your vanity unit and how you want it to look. What else is there to consider? Well your basin is going to need some brassware to allow it to do its job. Most vanity furniture includes only a single central tap hole. So your main source of water is going to be a mono mixer tap. These taps allow you to blend hot and cold water in a single tap to create your perfect flow. Available in a range of styles and finishes. These taps are as diverse as the units themselves.
Once you have a tap selected. Don't forget to pick up a suitable basin waste. And suitable is dependent on the type of basin your unit has. If it includes an overflow hole. You'll need a slotted waste to allow that excess water to drain into your existing plumbing. If not, an unslotted waste will do the job. These wastes are available in many colours and finishes. So, you can match the waste to your overall style.
The final touches needed for your unit include subtle visual and practical add-ons. One option that can really brighten up your unit are LED light strips. These strips illuminate the spaces in between drawers for a more striking look. In practical terms, a set of drawer dividers can help keep your drawer space tidy. Something you'll want to be doing once you have your new unit!