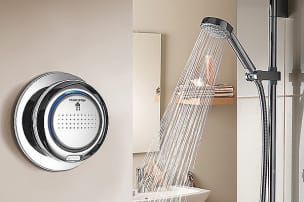 Digital Showers allowed us to move on from the traditional mixer shower and offers users more accurate temperature and pressure control. Today's digital showers can be operated remotely and allow you to create your shower experience, your way. Bathroomplanet.com has highlight our top 5 digital showers for 2018.
1. CK3 – Bathroom Brands Dual Head Kit (Available pumped or non-pumped)
Bathroom Brands is a quality shower brand offering good value for money on all of their shower packs. This dual head kit gives the benefit of dual shower heads for the ultimate shower experience. For safety there is an Automatic shut off which means if there is a problem with your water supply the shower will shut off immediately. The colour changing controls not only look good but indicate when your shower is heating up or cooling down and will glow white when the desired temperature has been reached.
2. CK4 – Bathroom Brands Bath/Shower Kit (Available pumped or non-pumped)
Ideal for smaller bathrooms or where showering over the bath is the only option. Not only is this an excellent shower but there is also the option to fill the bath thermostatically so that there is no need for any additional bath taps or wastes. As with the CK3 the shower comes with temperature control and innovative safety features.
3. Aqualisa Rise RSD.A1.EV.14
Aqualisa is a great British brand. This product is ideal for customers will sold brick walls where pipework cannot be added. This shower allows the pipework to be hidden in the loft and taken through the roof with no visible pipework.
4. Aqualisa QDC.01.HP
This shower is taking digital to the next level – now introducing the Smart shower! This product can be linked with various shower heads of your choice and has been crafted with high quality materials and a range of designs to suit your bathroom requirements. Personalisation is at the heart of the Q range, choose your temperature, pressure and flow to suit your mood.
5. Aqualisa INF01HP
The thinnest and most customisable digital shower in its class. Aqualisa Infinia offers you the chance to customise your showering in an elegant and sleek design. Choose from a range of controls and dials to suit your bathroom and with an ultra-thin control plate this product gives your bathroom the most seamless look available.
For a full range of Bathoomplanet.com digital showers visit our website. Or contact us for more information about the showers listed in this article.