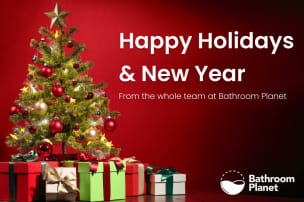 As we close out the year, we'd like to take the time to thank every single customer for their support and understanding through this difficult year. We want to wish everyone the best for their holiday season and a happy new year. We're already looking forward to seeing you again in a brighter 2023!
Our offices will be closed on the 23rd of December and will reopen on the 3rd of January. During that time our Customer Services and Accounts team will be unavailable. Please read the following procedures we will have in place over this period:
Orders
You can still place orders as normal through the website.
Orders placed during this period will be processed and delivery dates confirmed. This will be handled by a skeleton staff and may take longer than usual.
Deliveries will not resume until the 3rd of January at the earliest.
Any queries regarding stock availability can be emailed to sales@bathroomplanet.com and one of our team will get back to you ASAP.
Any other enquiries will not be attended to until the 3rd of January.
Returns & Refunds
Refunds will not be processed until the 3rd of January at the earliest.
Return requests can still be sent by replying to your order confirmation or by emailing customerservices@bathroomplanet.com. However, these requests will not be processed until the 3rd of January.
No return of goods will be received and processed during this period.