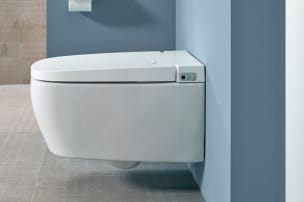 We often hear about the benefits associated with "smart" devices found around the home. Examples include (but are certainly not limited to) intelligent thermostats, adjustable lighting fixtures and even washing machines that are able to automatically adjust their cleaning methods in accordance with the weight of the associated clothing.
However, did you know that smart toilets are also becoming commonplace? If you are hoping to upgrade your bathroom space so that it embraces an ergonomic edge or should you simply wish to keep up to date with the latest technology, there is no doubt that a smart toilet will leave a lasting impression. There are still some questions that need to be addressed.
What exactly is a smart toilet? What types of automated cleaning functions do they have to offer? Are there any other smart features that illustrate just how far this technology has come? From heated seats and auto-flush mechanisms to remote control capabilities and the presence of a night light, you will truly be amazed at what smart toilets have to offer the average user. Let's take a closer look.
The Notion of a Japanese Style Toilet
It can be argued that the history of smart toilets can be traced back to 1980s Japan. As this country was (and is) a leader in the electronics industry, it only stands to reason that the concept of a smart toilet soon entered mainstream culture. This Japanese style bathroom technology would soon make its presence known within the western marketplaces; particularly in countries such as the United States and the United Kingdom. So, what are the purposes of a typical smart toilet?
The main intention of Japanese toilets is to automate many of the processes that would have to otherwise occur manually. Furthermore, they can often be customised in order to address the needs of individual users thanks to the presence of smart technology. This will add a pronounced sense of luxury to any bathroom and it, therefore, stands to reason that Japanese style toilets are now more trendy than ever before.
What Types of Functions Does a Japanese Style Toilet Perform?
Although this will often depend upon the make and model of the Japanese toilet in question. The majority of designs share a number of features in common. These include (but are not always limited to):
A built-in air dryer

An automatic seat feature that opens and closes

A rimless toilet pan (for increased hygiene)

A heated seat

Energy-saving options such as the ability to adjust water pressure when needed

Once again, the user is often able to adjust these and similar settings through the use of a remote control or even a dedicated mobile phone application. It is now beginning to become clear why these so-called Japanese toilets rise head and shoulders above a standard toilet. Let's now take a look at the functions mentioned above in more detail.
An Air Dryer
Many smart toilets are equipped with an air-drying mechanism. As you might have already guessed, this is much more hygienic when compared to toilet paper. This is also why air-drying mechanisms can often be found within commercial settings. Households which consume less toilet paper will also reduce their overall carbon footprint. And you won't need to buy a toilet roll holder so that's another few pounds saved.
Automatic and Heated Toilet Seats
The hands-off nature of this type of toilet can also be seen in regard to the seats themselves. Thanks to the presence of motion (and sometimes pressure) sensors, toilet and bidet seats will open and close without requiring any type of manual manipulation.
It is likewise common to encounter a smart toilet that has been outfitted with a heated seat. After all, no one enjoys the sensation of cold acrylic during autumn and winter. A warm toilet seat will once again provide impressive levels of comfort. Furthermore, the temperature of a smart toilet seat can be adjusted in accordance with personal preferences.
Rimless Pans
One common feature seen within a traditional toilet involves a pan containing a rim. This rim is used to send flush out waste material. Unfortunately, these very same rims can accumulate germs and bacteria over time. This is less than ideal for any bathroom. Rimless alternatives will not suffer from such a drawback. Whether referring to bidet toilets or standard smart models, such an amenity should never be overlooked.
An Energy Saving Mode
Consumers are understandably concerned about their impacts on the environment. Generic bathroom fixtures often fall short of the mark in regard to issues such as water consumption. Japanese toilets once again rise to the occasion in this sense. Note that other variables such as the water temperature can likewise be modified; helping to reduce mains electricity use while enhancing end-user comfort.
Additional Possibilities
Interestingly enough, many Japanese toilets are now equipped with even more smart features. One example can be seen in the presence of a night light in order to reduce the chances of accidents (particularly beneficial for anyone who suffers from restricted mobility). It could also be possible to adjust a built-in massage setting; providing any smart toilet with a decidedly luxurious edge. A contemporary smart toilet could also provide a deodoriser function in order to imbue the environment with a clean and fresh personality. Once again, Japanese toilets can often be customised in accordance with your personal tastes.
Intuitive Remote Controls
Although all of these features are certainly impressive, some consumers are still slightly taken aback by the number of functions present within a typical smart toilet. The good news is that these Japanese style configurations have been designed with the needs of the end-user in mind. It is quite easy to program unique settings and adjust these parameters when needed.
For instance, a night light can be activated after a certain hour or only when movement is detected. A smart bidet seat can be adjusted to a specific temperature. These are only two examples of why this type of Japanese toilet has become extremely popular in modern times.
The Streamlined Appearance of a Shower Toilet
We also need to address the notion of aesthetics. While a smart toilet is indeed very smart, it is just as pleasing to behold. The vast majority of models have embraced a minimalist appearance. This type of design will work seamlessly within contemporary bathrooms. Those who have been searching for a new toilet should therefore consider what these variants have to offer.
Customisation should likewise be mentioned here. Users will often be able to choose the types of functions that they require. Some may wish to install a stop operation button (so that the Japanese style toilet can be used manually). Others could require wider toilet seats to accommodate a specific body type. The size of the unit can likewise be modified based on the dimensions of the bathroom or wet room.
Can This Type of Japanese Toilet be Used in Synergy with Nearby Furniture and Sanitaryware?
This is another common question that should be quickly addressed. Some users believe that a Japanese represents nothing more than a standalone feature and it will overwhelm other items such as shower enclosures or washbasins. Thankfully, nothing could be further from the truth. This is largely due to the customisable configuration of the typical Japanese toilet. For instance, the dimensions of the unit can be modified and customers are often able to choose the type of finish that they desire (similar to a more traditional toilet).
The smart toilet UK market has likewise burgeoned in recent times thanks to the sleek and streamlined nature of these Japanese style fixtures. By its very nature, a Japanese toilet is centred around a synergy of functionality and ergonomics (similar to the culture of Japan as a whole). the quality of an intelligent toilet is another important, point, as these systems have been engineered to last for decades if cared for properly.
What to Consider When choosing a Japanese Toilet for Your Home
So, what variables need to be addressed when selecting a Japanese toilet? The price of the toilet is obviously important, as some models can be rather expensive. It is also wise to examine whether specific accessories (such as toilet seats) can be replaced or upgraded in the future. It is likewise crucial to choose a quality UK manufacturer with a proven track record. Consumers should also determine what type of warranty is associated with the toilet.
Whether you are looking to reduce your use of toilet paper, you have become enamoured with the technology offered by Japan, you are attracted to the notion of an automatic Japanese toilet seat or you simply want to upgrade your bathroom, there is no doubt that the UK market offers a host of solutions. As always, make it a point to perform additional research to better appreciate the range of models that are offered.