Hansgrohe
With a rich history that dates back to 1901, Hansgrohe's story is rife with important innovations and watershed moments that have come to define the brand's identity. Forward-thinking and inventive, Hansgrohe is responsible for creating some of the earliest contemporary bathroom fittings and pioneering patents that have helped shape the industry as we know it. read more
No products found
Sorry, there are currently no Hansgrohe products available. Please try an alternative brand or try searching for a product.
Shop by brand
Hansgrohe
With a rich history that dates back to 1901, Hansgrohe's story is rife with important innovations and watershed moments that have come to define the brand's identity. Forward-thinking and inventive, Hansgrohe is responsible for creating some of the earliest contemporary bathroom fittings and pioneering patents that have helped shape the industry as we know it. From the hand shower to the shower rail, Hansgrohe has relied on German engineering and award-winning design to push the envelope and make advancements that have helped create an all-around better bathroom experience.
Today, through responsible and sustainable production and manufacturing methods, Hansgrohe is able to build on its legacy and create even more modern bathroom products crafted with exceptional quality and workmanship. With the help of internationally renowned designers, Hansgrohe offers refreshingly high-quality shower heads, shower sets, bathroom taps and more, all "designed for life". Each made for long-term reliability and ease of use, Hansgrohe also provides the perfect mix of technology and intuitiveness that make their products accessible and comfortable for all users.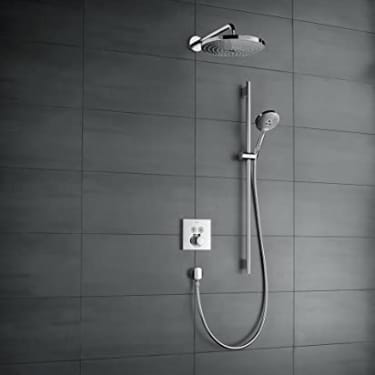 Hansgrohe Showers
With a shower for every taste, Hansgrohe offers a wide range of both styles and systems, each with unique features and innovations that create an enjoyable experience no matter what your requirements. As the developer of the hand shower, it's no surprise Hansgrohe offers a selection of different designs, but they're just the tip of the iceberg. With hundreds of hand showers, overhead showers, shower sets and more to choose from, every bathroom style and shower type have been taken into consideration, meaning you'll likely find just what you're looking for from Hansgrohe.
Hand Showers
Since their development, hand showers have only gotten better with time and Hansgrohe is continually refining and perfecting the technology that helped put them on the map. With a variety of ranges in their lineup – Raindance, Croma, Crometta, PureVida and many more – Hansgrohe offers a number of different features, sizes and shapes, all with the end-user in mind and their hand showers design are no exception.
Raindance hand shower models and variations, for example, feature extra-large heads and AirPower technology that, when combined, create a pleasant rainfall sensation that is not only more enjoyable than a standard showerhead but also more efficient; by mixing water with air, the results are plumper, lighter droplets. They also feature one-touch settings that make it easy to switch between soft water droplets and a high-pressured massage.
Croma and Crometta designs offer timeless classic chrome hand shower styles and ergonomic shapes that provide a variety of spray types for all occasions. Some models also include EcoSmart technology that requires up to 60% less water than their conventional counterparts without sacrificing comfort or convenience. This helps conserve resources while also cutting down your water and energy costs.
The PureVida model and variations, on the other hand, represent Hansgrohe's premium hand shower offerings. Combining the benefits of all other hand showers, choose from a number of settings that include RainAir, CaresseAir and Mix with one-touch operation for the ultimate luxury.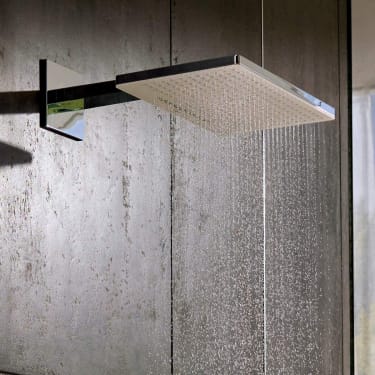 Overhead Showers
Like their hand showers, Hansgrohe's overhead shower designs feature many of the same innovative technologies. Raindance overhead varieties include XXL heads for even water coverage and water-conserving technology, while Croma overhead designs include several different water pressure settings and spray types, easily adjustable depending on who's showering.
Hansgrohe also offers a number of overhead designs with the specific aim of elevating the typical showering experience and creating a spa-like sensation. The Raindance Rainfall overhead shower, for example, features a powerful flood jet that provides generous coverage and will make you feel like you're standing under a waterfall. For the ultimate luxury, however, Rainmaker models and their variations guarantee showering indulgence on a grand scale. With a showerhead that measures 580 x 260 mm and offers three spray types, it will effectively transform your shower and change your bathroom for the better.
Shower Sets
In addition to Hansgrohe's hand and overhead showers, you'll find shower sets and systems throughout their diverse product lineup. Including hand showers and shower rails that allow for adjustable heights, each shower set offers something different aesthetically. More extensive systems include mixers and fixed overhead showers for a complete experience that provides the convenience of all types of showers, thanks in part to Hansgrohe's patented shower rail design.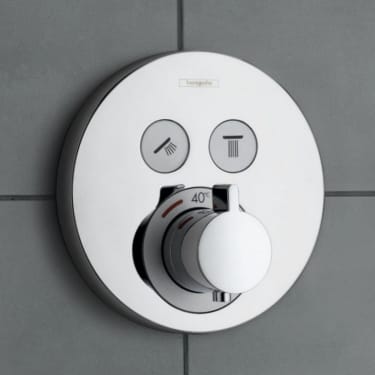 Hansgrohe Valves
Not all shower sets and systems offer the same bathroom experience and if you've used both, you know their difference largely comes down to whether they incorporate thermostatic valves or not. These valves allow for the precise control of water temperature and provide a level of convenience and elegance that only heightens the experience. Hansgrohe offers a variety of uniquely-styled thermostatic bath and shower mixers that can transform your shower and elevate your experience beyond what you thought possible with just hand shower controls.
Many varieties of Hansgrohe's valves feature two control knobs: one that switches between the overhead shower and the hand shower, and a second that controls temperature. Models like the ShowerSelect take that ease of use even further by featuring buttons that perform the same function instead. Because of these simple components, Hansgrohe has been able to refine the style down to a modern, minimalist design that looks elegant and luxurious, regardless of whether the mixer is concealed or exposed.
Models like the ShowerTablet Select thermostatic mixer, on the other hand, feature an outside-the-box design that takes functionality to the next level. With one-touch controls that switch between showers, the ShowerTablet incorporates them, along with a temperature-controlling knob, into a shelf that is mounted within your shower. Not only does this mixer provide precision control, but it also offers a place to store your shower belongings. With CoolContact cooling technology, it will also never heat up, meaning it's safe for both you and your family to use.
Hansgrohe also offers thermostatic bath mixer valves that help create a complete shower bath. Like the shower valves, they include a knob that switches between the shower heads and the bath tap and allows for delicate temperature control. Models like the Ecostat thermostatic bath mixer are also available in a variety of different finishes beyond the standard chrome, including brushed bronze, brushed black chrome, polished gold optic and matte white or black.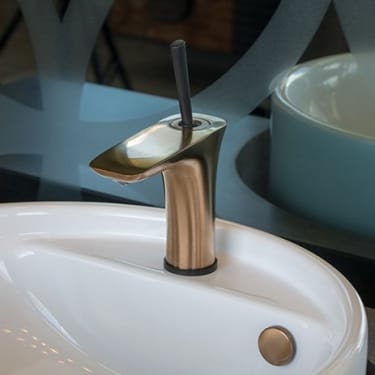 Hansgrohe Taps
Offering taps for basins, showers and baths, Hansgrohe combines award-winning design with innovative technology that results in high-quality products and an increased level of usability, no matter which style you choose.
Featuring tap designs that include 1, 2, 3 and even 4-hole basin models, each is built with a purpose in mind. The Metropol range of single-lever basin mixers, for example, features the ComfortZone trademark, meaning it's available in a number of different heights that allow for different uses: from brushing your teeth with a short tap to filling up a vase with a medium tap or even washing your hair in the sink with the tallest. Hansgrohe also offers single taps with CoolStart technology that allows for cold water to flow upon startup from the central position in an attempt to conserve energy.
Classic 3-hold basin taps feature pop-up wastes and dedicated hot and cold handles for more elaborate temperature control. Models like the Talis E 3-hold basin mixer also features a selection of different finishes that can help highlight your bathroom's decor and aesthetic. Choose from matte black or white, bronze, gold and standard chrome to suit your tastes best.
Like most hand showers, overhead showers and shower sets, many Hansgrohe taps also feature the brand's patented QuickClean technology designed to remove limescale and keep spouts clean thanks to flexible silicon naps. For low-maintenance shower and bath products that feature high-quality designs and standards, Hansgrohe seemingly has it all.